Embroidery
APromosUSA.com offers beautiful embroidery at extremely cost effective prices.
Our in-house Art Department features talented Digitizers who will transform your design into exquisite stitch work. Embroidery is a fantastic choice for those individuals and organizations who want a polished and professional look. Choose from hundreds of garments to embroider including: polo shirts, jackets, long sleeve t-shirts, sweatshirts, baseball caps, towels, bags, and uniforms. Custom embroidered apparel is a perfect option for tradeshows, employee uniforms, fire/ems/police departments, schools and teams, fundraisers, family reunions, party favors, eco-friendly campaigns and more.
Contact our Customer Service Team for details.
So, you might be asking yourself, what exactly is embroidery and how does it work at APromosUSA.com?
Embroidery is a technique of utilizing computerized sewing machines to produce artwork and logos with thread. Pricing of embroidery is based upon stitch count; the fewer the stitches, the more cost effective the product.
Tip for Success: Best results are achieved when images and lettering is larger. Letters should be no smaller than 1/4" tall to attain optimal results.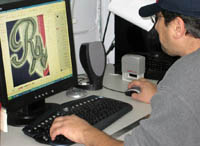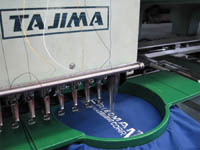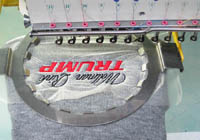 Embroidery Process
APromosUSA.com offers beautiful embroidery at extremely cost effective prices.
First, one of our experienced Digitizers begins with an image or logo and converts it to stitches through embroidery software. This process requires highly experienced digitizers to ensure that the image detail is represented accurately with thread. The more details and stitches an image has, the longer it takes to digitize and produce.
Next, after the image has been converted to stitches, our Digitizer brings the digitized file to the Embroidery Department. This is where fabric is hooped and attached to the embroidery machine. A sew-out is then completed and proofed by our Embroidery Dept. to ensure quality workmanship.
Finally, once an image sew-out has passed quality control. Your garments are then hooped and attached to the embroidery machines. Sewing then begins using high quality Madeira threads. After each garment is complete, the Embroidery Department trims each design by hand to ensure perfection.  Once completed, your order is sent to the shipping department where it is packed and ready for shipment.
Thread Colors
At APromosUSA.com we use the finest Madeira threads to create exquisite custom embroideries for your garments and promotional items.  Our Digitizing Department carefully selects the thread based on your color scheme to ensure you'll be completely satisfied.  If you have any questions with embroidery, please contact our Customer Service Department.
PLEASE BE ADVISED

– Due to the varying degree of monitor settings, the colors shown on this screen MAY NOT MATCH the actual thread colors on the garments.  This guide should be used for an approximate reference only.